the Sudan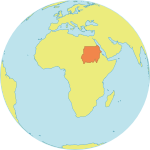 Maternal Mortality Ratio
295
Contraceptives prevalence rate
10
Population aged 10-24
32.6%
Youth secondary school enrollment
Related content
UNFPA is concerned about the impact of the recent escalation of violence in and around Damascus, particularly on women, youth and their families in areas under fire. The Fund is also alarmed over raging violence against civilians in other parts of the country, which has forced...
ZA'ATARI, Jordan – H.R.H The Crown Princess Mary of Denmark visited Za'atari refugee camp today, the second largest refugee camp in the world located in Jordan some 50 kilometres from the Syrian border.
ZA'ATARI CAMP, Jordan — As long as there is an urgent need for her skills, Muneera Sha'aban, one Jordan's first trained midwives, continues to pursue her calling of helping women deliver.
Pages