the Sudan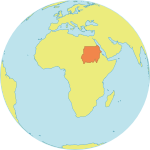 Maternal Mortality Ratio
295
Contraceptives prevalence rate
10
Population aged 10-24
32.6%
Youth secondary school enrollment
Related content
DAMASCUS, Syria – As a new mother, Wardeh's life should have been filled with hope and anticipation. But like many young women in war-ravaged Syria, her life has become a daily struggle. Wardeh, 24, is one of an estimated 54,000 Syrian women who have been put at greater risk of...
UNITED NATIONS, New York – UNFPA will be leading a coalition of partners to provide health and psychosocial services to the young girls who were kidnapped from their school in Chibok, Nigeria, as soon as they are returned to their families.
ZA'ATARI REFUGEE CAMP, Jordan — Over the past three years, Syria's civil war has left more than 130,000 dead and forced millions to flee to neighbouring countries like Jordan. In the midst of this catastrophe, one extraordinary woman remains focused on her work: changing lives...
Pages