Turkey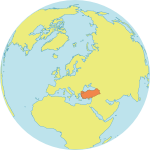 Maternal Mortality Ratio
17
Contraceptives prevalence rate
48
Population aged 10-24
24.1%
Youth secondary school enrollment
Related content
As United Nations Secretary-General, he stood up for the rights, health and dignity of women and girls.
Safe Space provides a venue to explore sensitive topics.
"I was sold more than once," Resalah* told UNFPA . A member of the Yazidi minority, she was abducted by the Islamic State in Iraq and the Levant (ISIL, also known as ISIS or Da'esh), traded as property and subjected to relentless abuse.
Pages