Turkey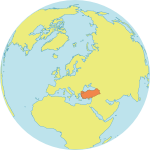 Maternal Mortality Ratio
17
Contraceptives prevalence rate
48
Population aged 10-24
24.1%
Youth secondary school enrollment
Related content
Today, as we commemorate the anniversary of the Universal Declaration of Human Rights, we celebrate the foundations that the Declaration provides for the right to sexual and reproductive health, and the growing recognition that these are fundamental human rights. This takes...
Human beings are born free and equal, both in rights and in dignity. This is the fundamental principle enshrined in the 1948 Universal Declaration of Human Rights.
What kind of future do we wish to create for Asia and the Pacific? The answer to that sweeping question, in large part, lies in how we care for the girls of today – in particular the more than 325 million girls aged 10 to 19 across this vast region.
Pages