Turkey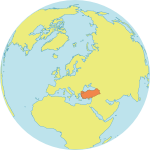 Maternal Mortality Ratio
17
Contraceptives prevalence rate
48
Population aged 10-24
24.1%
Youth secondary school enrollment
Related content
To commemorate this year's International Day for the Elimination of Violence Against Women, the Secretary-General's UNiTE Campaign is calling upon us to stand in solidarity with survivors and survivor advocates and women's human rights defenders who are working to prevent and...
These guidelines are part of UNFPA's We Decide Programme aimed at promoting the rights of women and young persons with disabilities.
I congratulate Nobel Peace Prize recipients Dr. Denis Mukwege and Nadia Murad for their remarkable efforts to stop rape and other forms of sexual violence as a weapon of war and to help survivors.
Pages