Turkey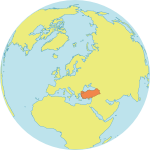 Maternal Mortality Ratio
17
Contraceptives prevalence rate
48
Population aged 10-24
24.1%
Youth secondary school enrollment
Related content
This is an important moment for UNFPA. Next year we will celebrate the 25th anniversary of the International Conference on Population and Development, ICPD. The regional review process is already under way.
As United Nations Secretary-General, he stood up for the rights, health and dignity of women and girls.
Safe Space provides a venue to explore sensitive topics.
Pages