Australia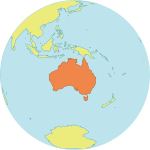 Maternal Mortality Ratio
6
Contraceptives prevalence rate
58
Population aged 10-24
18.5%
Youth secondary school enrollment
Related content
ZAVKHAN PROVINCE, Mongolia – "Y-Peer saved my life. For that, I am so thankful," says Oyuka, recalling a time when she contemplated suicide. That was before Enkhbat, an educator with the youth peer education programme Y-Peer, reached out to her and saved her life.
<p>UNITED NATIONS, New York <span style="color: rgb(87, 83, 73); font-family: Verdana, Arial, Helvetica, sans-serif; font-size: 12px; font-style: normal; font-variant: normal; font-weight: normal; letter-spacing: normal; line-height: 18px; orphans: auto; text-align:
ABIDJAN, Côte d'Ivoire – Faced with alarming numbers of adolescent pregnancies, the Government of Côte d'Ivoire, with support from UNFPA, the United Nations Fund for Population, launched a national campaign to educate youth about sexual and reproductive health.
Pages