Australia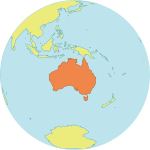 Maternal Mortality Ratio
6
Contraceptives prevalence rate
58
Population aged 10-24
18.5%
Youth secondary school enrollment
Related content
TBILISI, Georgia – A new National Youth Policy adopted by the Government of Georgia is expected to make youth a development priority for the country.
GENEVA / NEW YORK – New United Nations data show a 45 per cent reduction in maternal deaths since 1990. An estimated 289 000 women died in 2013 due to complications in pregnancy and childbirth, down from 523 000 in 1990.
UNITED NATIONS, New York – New data from the United Nations reveal that maternal deaths have declined by 45 per cent since 1990. Some 523,000 deaths occurred from complications in pregnancy or childbirth in 1990; in 2013, that number was 289,000.
Pages