Australia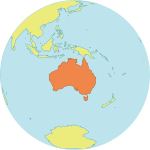 Maternal Mortality Ratio
6
Contraceptives prevalence rate
58
Population aged 10-24
18.5%
Youth secondary school enrollment
Related content
Twenty years ago, at the Cairo International Conference on Population and Development, the world community recognized that families, in their various forms, should be strengthened and enjoy comprehensive protection and support.
UNITED NATIONS, New York – Gladys Kalibbala, a journalist in Uganda, knows what loss looks like. She has seen it hundreds of times, in the faces of children without homes and in the desperation of mothers searching for their children.
ABUJA, Nigeria – Twenty-three per cent of Nigerian youth between ages 15 and 19 have already begun to have children, according to the country's 2008 Demographic and Health Survey.
Pages