Ethiopia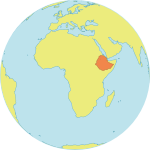 Maternal Mortality Ratio
401
Contraceptives prevalence rate
28
Population aged 10-24
33.6%
Youth secondary school enrollment
Related content
Kadiga, 17, was subjected to Female Genital Mutilation as a child. Like millions of girls in a similar situation, she will face countless risks to her health and untold pain as a result of decisions taken about her by others. But opinions in her community in Afar, Ethiopia, have...
A safe and healthy passage from adolescence into adulthood is the right of every child. Being healthy means not merely the absence of illness, but complete physical, mental and social well-being.
ISLAMABAD, Pakistan – Kiran Azeem Khan, 30, and her five children were forced to flee their home in Miran Shah, in Pakistan's North Waziristan Agency, after military operations commenced there in late June. They left without money or supplies. Ms. Khan was also pregnant – and...
Pages