South Africa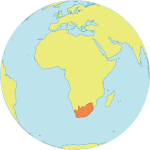 Maternal Mortality Ratio
119
Contraceptives prevalence rate
50
Population aged 10-24
25.9%
Youth secondary school enrollment
Related content
WAU, South Sudan – The need for reproductive health care remains overwhelming in South Sudan. The country has one of the highest maternal death rates in the world, and health conditions are deteriorating under the current crisis.
UNITED NATIONS, New York—UNFPA, the United Nations Population Fund, is deeply concerned about the impact of the ongoing Gaza conflict on women's health and their access to safe births.
UNITED NATIONS, New York – On Monday, 21 July, the home and maternal health clinic of Feeza Shraim, a UNFPA-supported midwife in the Gaza Strip, were destroyed in an airstrike.
Pages