Kenya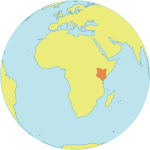 Maternal Mortality Ratio
342
Contraceptives prevalence rate
46
Population aged 10-24
33.4%
Youth secondary school enrollment
Related content
Regional Highlights All  countries  in  Eastern  Europe  and  Central Asia, except    Turkmenistan,    have    officially    reported COVID-19  cases.  Belarus,  Armenia  and  Moldova are  the  most  affected  relative  to  their  population size.   Turkey   is   the   most  ...
As of 09 June, 2020, the Syrian Ministry of Health (MoH) has reported 144 COVID-19 cases across Syria: 76 active, 62 recoveries and 6 registered deaths.1 The first positive case was announced on 22 March 2020, with the first fatality reported on 29 March 2020.
In mid-May, UNFPA was forced to suspend support to lifesaving reproductive health services in 140 health facilities; with UNFPA's appeal for $100.5 million towards its humanitarian response receiving only $41.7 million by May.
Pages