Ethiopia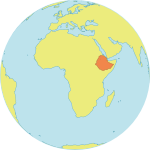 Maternal Mortality Ratio
401
Contraceptives prevalence rate
28
Population aged 10-24
33.6%
Youth secondary school enrollment
Related content
This publication documents UNFPA's contribution to the goals of the World Summit for Children and its commitment to young people. This commitment, anchored in the ICPD Programme of Action, includes support in four major areas: girls' education, adolescent reproductive...
Wars or natural disasters deprive people of life-saving reproductive health information and services. This advocacy booklet details UNFPA's work with global partners to respond to the reproductive health needs of refugees and internally displaced persons in crisis...
The meeting examined, in particular, three issues of considerable importance to sexual and reproductive health, in order to assess the impact of clinical services, health systems and other underlying social, economic, legal and political factors on the enjoyment of sexual and...
Pages