Afghanistan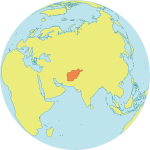 Maternal Mortality Ratio
638
Contraceptives prevalence rate
18
Population aged 10-24
35.3%
Youth secondary school enrollment
Related content
UNITED NATIONS, New York – The theme of this year's International Day to End Obstetric Fistula, "Tracking Fistula – Transforming Lives," reflects an important step forward in eradicating this preventable condition, which affects an estimated two million women and girls in...
ZAVKHAN PROVINCE, Mongolia – "Y-Peer saved my life. For that, I am so thankful," says Oyuka, recalling a time when she contemplated suicide. That was before Enkhbat, an educator with the youth peer education programme Y-Peer, reached out to her and saved her life.
Twenty years ago, at the Cairo International Conference on Population and Development, the world community recognized that families, in their various forms, should be strengthened and enjoy comprehensive protection and support.
Pages