Afghanistan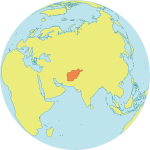 Maternal Mortality Ratio
638
Contraceptives prevalence rate
18
Population aged 10-24
35.3%
Youth secondary school enrollment
Related content
UNITED NATIONS, New York – Gladys Kalibbala, a journalist in Uganda, knows what loss looks like. She has seen it hundreds of times, in the faces of children without homes and in the desperation of mothers searching for their children. Around the world, vulnerable families are...
TBILISI, Georgia – A new National Youth Policy adopted by the Government of Georgia is expected to make youth a development priority for the country. The policy recognizes – and commits to meeting – young people's needs for education, sexual and reproductive health services,...
KABUL, Afghanistan – Purple is the colour that midwifery students proudly wear in a small but revolutionary school in the busy Afghan capital, Kabul. In a country where a woman dies every two hours from pregnancy-related complications, midwives play a key role in promoting safe...
Pages