Philippines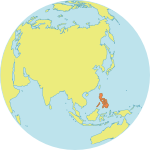 Maternal Mortality Ratio
114
Contraceptives prevalence rate
56
Population aged 10-24
29%
Youth secondary school enrollment
Related content
A high-level task force was recently formed to bolster efforts in support of the goals of the International Conference on Population and Development (ICPD) that was held in Cairo in 1994.
In this op-ed, published by The Guardian, Nigeria, UNFPA Executive Director Dr.
Thirty-year-old Khloloud Mohammad was seven months pregnant when she and her husband and seven children walked for four hours, surviving shelling in her hometown of Nasib, to reach the Jordanian border. Every step was a prayer.
Pages