Philippines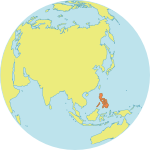 Maternal Mortality Ratio
114
Contraceptives prevalence rate
56
Population aged 10-24
29%
Youth secondary school enrollment
Related content
KAPILVASTU, Nepal—Bijay Laxmi, 15 years old, has been married since she was 11. In a few months, she will move in with the family of a husband she doesn't know.
UNITED NATIONS - The burgeoning youth population in Pakistan plays a vital role in addressing the country's major challenges and in shaping its future, both for young people today and for generations to come.
"Meaningful youth participation means their participation...
KABUL —Fifteen-year-old Freshta has escaped marriage to a man more than twice her age. But she has been cast out of her home and worries that her little sister will be forced into the fate that awaited her.
Pages