SALVADOR, Bahia –The tiny baby girl was asleep when UNFPA Executive Director Dr. Babatunde Osotimehin came to see her. "She is a premature baby, born after a 22-week pregnancy," explained Dr. Dolores Fernandez, Director of the Institute of Perinatology of Bahia "We are very proud of her -- yesterday she breastfed for the first time."
The perinatal institute (IPERBA) is a referral centre for high-risk pregnancies in Bahia, a state in Brazil's impoverished northeast with a strong African legacy. With 69.2 deaths per 100,000 live births in 2011, compared to the national average of 63.9, Bahia has one of the highest maternal mortality rates in Brazil. This is a reality IPERBA is helping to change: from 2009 to 2011 the hospital did not register a single maternal death. Only one mother died at the hospital in 2012.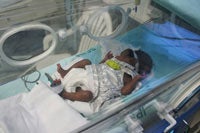 A multidisciplinary approach to making motherhood safer
IPERBA's multidisciplinary team addresses many dimensions of childbearing: sensitive, patient-centred childbirth, preventing mother-to-child transmission of HIV and syphilis, and assistance to survivors of gender violence. The hospital is also well-known for offering specialized care for pregnant adolescents – it deals with more than a thousand cases per year, representing 23 per cent of all childbirths there.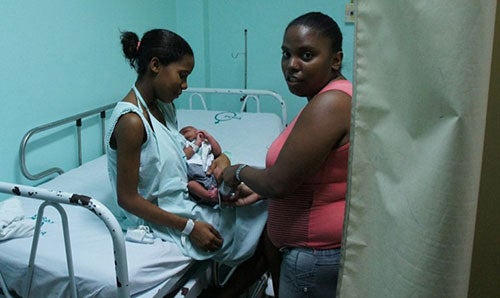 A baby boy and her young mother are both being cared for at the institute. Photo © Ulisses Lacava/UNFPA Brazil
 Five years ago, fewer than 20 per cent of pregnancies were among adolescents. However, Dr. Fernandez believes the figures are not actually rising. Rather, he believes the quality of the services provided are attracting more pregnant girls from other places seeking for compassionate care.
A team of dedicated professionals
Since 2009, IPERBA has participated in the Municipal Forum to Reduce Maternal Mortality, one of the key activities developed through the partnership between UNFPA and the Municipality of Salvador, Bahia's capital city. In partnership with UNPFA, IPERBA has developed educational materials and capacity building initiatives to support its dedicated team of health professionals in the areas of sexual and reproductive health and gender-based violence prevention.
Many of them gathered to hear Dr. Osotimehin: "As a medical doctor I would like to thank my colleagues here for what you are doing. To work with adolescents is the most important work you can do," said UNFPA's Executive Director, acknowledging IPERBA's efforts. He recalled that, despite the progress achieved by the country in recent years, adolescent pregnancy is still a challenge for Brazil.
Helping every adolescent reach her full potential
"When adolescents get pregnant, they are distracted from their focus in life, and cannot reach their full potential… We have to work at the community level to prevent adolescent pregnancy, develop their skills so they can become productive members of society." Dr. Osotimehin stressed that UNFPA will continue supporting IPERBA and following-up on its results: "You have my commitment, my heart and my soul."
The quality of care they receive is recognized by the young mothers themselves: according to an internal survey, 75 per cent of the pregnant adolescents attending IPERBA's health programmes classified them as 'excellent' or 'good'. None had a negative response. "The service is important to help us avoiding a second pregnancy," said one patient. "I've learned a lot here, you get a lot of guidance. There are many inexperienced girls." The programmes are focused on adolescents from 12 - 19 years old.
Dr. Fernandez said the positive response is due to IPERBA's approach: "Adolescents must be treated differently. We have to listen to them, talk about their prospects in life, and not treat them with prejudice. There are many adolescent pregnancies that are actually wanted; they mean a higher status in society for those girls. We have to talk to them, discuss the best moment for such a decision, so they won't jeopardize their future."
Focus on Bahia, heart of the African diaspora in Latin America
Brazil's impoverished northeast state of Bahia has the country's largest population of Afro-descendants, who constitute approximately 75 per cent of the inhabitants of its capital city, Salvador. However, many of them face inequalities in income distribution, lower educational levels, and poorer health and employment conditions, all exacerbated by gender, race and generational disparities.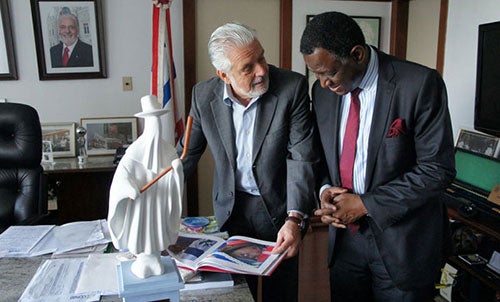 Dr. Babatunde Osotimehin with Jaques Wagner, Governor of Bahia. Photo © Ulisses Lacava/UNFPA Brazil
UNFPA is contributing to change their situation. "We are working (here) with young people, maternal health, vulnerable indigenous groups to ensure equal opportunities for all," said Dr. Osotimehin during conversations with Jaques Wagner, Governor of Bahia. "And we can help Bahia to become a bridge between Brazil and Africa," he added, referring to new South-South Cooperation opportunities.
The partnership between UNFPA and the Government of Bahia began in 2008. Initially, bilateral agreements were signed covering issues such as equity promotion, Human Rights and sustainable development. Since 2010, the cooperation has been expanded to other sectors and currently covers the use of disaggregated demographic data to inform public policies, improve delivery of health services and promote equitable justice and security.
As a result of the cooperation, UNFPA developed several initiatives to improve local capacity, including such seminars and workshops to sensitive health professionals to human rights issues. Since 2009 a public awareness campaign on maternal mortality and morbidity reduction is developed, and campaign products were disseminated in buses, in the airport, downtown streets and avenues.
UNFPA also developed and implemented the project 'Promoting the Rights of Youth: Culture and Sexual and Reproductive Health' in Salvador to build life-skills related to human rights and sexual and reproductive health, including prevention of sexually transmitted infections. In 2012 the project was institutionalized, becoming part of the Education of Young and Adults Policy, of the Secretariat of Education, Culture, Sports and Leisure of Salvador. Research conducted last year on the young people will inform youth policy.