Netherlands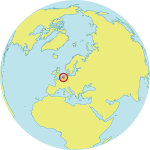 Maternal Mortality Ratio
7
Contraceptives prevalence rate
72
Population aged 10-24
18%
Youth secondary school enrollment
Related content
Chidbirth is perhaps the riskiest and most miraculous time in a woman's life. And midwives are truly the unsung heroines of the challenge to reduce the risks women face in bringing forth life.
UNITED NATIONS, New York—An academic institution affiliated with the Al-Azhar University in Egypt and a public health advocate from Uganda were announced yesterday as winners of the 2013 United Nations Population Award.
In this Opinion piece, published by the <a href="http://www.trust.org/item/20130423173457-otldb/" target="_blank">Thomson Reuters Foundation</a>, UNFPA Executive Director Dr.
Pages