Netherlands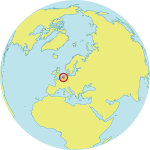 Maternal Mortality Ratio
5
Contraceptives prevalence rate
63
Population aged 10-24
17.4%
Youth secondary school enrollment
Related content
KUALA LUMPUR, Malaysia – "The evidence is so clear.
Midwives from around the world came to Kuala Lumpur in May 2013 for the Second Global Midwifery Symposium. No one knows more about the challenge, and joys, of saving mothers' lives than these healthcare workers on the front lines of the maternal health challenge.
In this piece published by Inter Press Service in advance of the Women Deliver conference, UNFPA's Executive Director talks about family planning and maternal health as two key vectors for lifting developing nations out of poverty.
Pages