Netherlands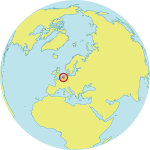 Maternal Mortality Ratio
7
Contraceptives prevalence rate
72
Population aged 10-24
18%
Youth secondary school enrollment
Related content
In this Opinion piece, published by CNN, UNFPA Executive Director Dr.
SUVA, Fiji — If alarming rates of violence against women are to be effectively addressed, the status of women needs to be elevated.
Chidbirth is perhaps the riskiest and most miraculous time in a woman's life. And midwives are truly the unsung heroines of the challenge to reduce the risks women face in bringing forth life.
Pages