Central African Republic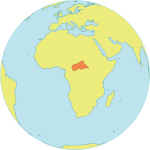 Maternal Mortality Ratio
829
Contraceptives prevalence rate
23
Population aged 10-24
36.2%
Youth secondary school enrollment
Related content
FREETOWN, Sierra Leone – Fatmata Kamara, from Sierra Leone's Kambia District, could not hide her surprise when she learned she would not have to bring candles or a torch to the clinic when she was ready to deliver her baby.
Preliminary results of the 2013 Demographic and Health Survey released in Sierra Leone indicate that the country has improved health services in the last five years, especially in the area of family planning.
In Afghanistan, conflict has not only caught the female non-combatants in its violence, but have severely crippled already inadequate services such as health and education.
Pages