Central African Republic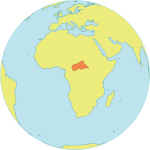 Maternal Mortality Ratio
829
Contraceptives prevalence rate
23
Population aged 10-24
36.2%
Youth secondary school enrollment
Related content
UNITED NATIONS, New York - A delegation of faith leaders at the United Nations today issued a rousing call to action on the fulfilment and protection of sexual and reproductive health and rights.
UNITED NATIONS, New York - A major initiative by the World Bank Group and UNFPA will enable countries in the troubled Sahel region to better invest in the well-being of their women and young people, particularly girls, so that they would become powerful engines for developm
MAE SOT, Thailand - Visiting a sexual and reproductive health clinic may seem ordinary for many women. But this is not the case for Saba, 21, who has been living in the Mae La refugee camp along Thailand's border with Myanmar for the last two years.
Pages