Central African Republic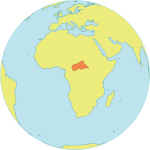 Maternal Mortality Ratio
829
Contraceptives prevalence rate
23
Population aged 10-24
36.2%
Youth secondary school enrollment
Related content
Ma Houay Kout village is in a particularly remote area in Attapeu Province in southern Laos. Once every three months, a health team will spend two days in each village and provide a range of services and information.
When Mother Died, the Family Fell Apart
A group of young Mauritanians called Khoudeija, Aisha, Goundou, Aissata, and Coumbis suffer from a condition known as Obstetric Fistula, which severely affects their lives.
Pages