WESTERN DARFUR, Sudan — The region's first comprehensive Fistula Centre has opened in the town of Zalingei, Western Darfur, with assistance from UNFPA, the United Nations Population Fund. Attached to the main reference hospital, the new Fistula Centre offers a 16-bed repair facility complete with a private consultation room, pre- and post-operative wards, and a separate rehabilitation and reintegration unit.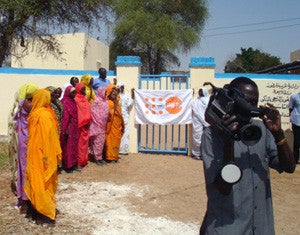 In the past, women awaiting fistula repair slept in one tattered tent or on the ground. Following their surgery, patients recovered in one small, cluttered room or shared rooms in other areas of the hospital. The new space dedicated to fistula repair gives long-ignored, ostracized and often mistreated women a special opportunity to regain their health and dignity within the stark conditions of surrounding Darfur.
"With the opening of this Centre, UNFPA has contributed to the health and welfare of the women of Western Darfur," said His Excellency Mr. Musa Adam Yusuf, the Commissioner of Zalingei Province at the inaugural ceremony held on 27 July 2006. "I will do whatever I can to facilitate these operations."
The new facility in Zalingei will be able to treat as many as 150 cases per year. Midwives and nurses have been recruited to work at the Centre, educating women about fistula and helping them to recover their dignity once the operation is complete. The Centre will also provide psycho-social counselling for patients, facilitating reintegration into their families and communities.
Fistula is a preventable and treatable condition caused during obstructed labour when the foetal head lodges against the woman's pelvis. As the tissues die because of a loss of blood circulation, a hole or fistula opens between the woman's vagina and her bladder or rectum. As a result, the baby usually dies and the woman becomes incontinent, leaking urine, faeces or both. In many instances she is thrown out of her own house and rejected by her family and friends.
UNFPA's office in Sudan estimates that 5000 new cases of obstetric fistula occur there every year. Of the women affected, more than 60 per cent are from West Darfur and neighbouring states. The average cost of fistula surgery and post-operative care for one woman is just $300. But poor women, especially in conflict zones, cannot access services even where they are available. Distance and costs often are insurmountable.
Western Darfur has some 657,000 people displaced by conflict. One quarter, or roughly 150,000, are women of reproductive age. Women in this conflict-torn region are especially at risk and must overcome a number of obstacles to get medical assistance. Leaving their village to seek health care means running a gauntlet: finding transportation, traveling long distances to hospitals with trained staff and functional equipment, and running into armed gangs along the road who exhort money and often resort to violence. Finally arriving at a health centre, the minimal costs for treatment may still be too high for impoverished women to pay.
The new Fistula Centre in Zalingei will make a difference not only for this region, but will be able to accommodate patients from the Eastern Corridor, North and South Darfur as well as refugees from Chad and the Central African Republic. This facility will complement two additional fistula centres in Khartoum and Juba.
Although fistula has essentially been eliminated in countries where emergency obstetric care is widely available, it continues to affect at least 2 million women globally. Between 50,000 and 100,000 new fistulas develop every year, mostly to young mothers whose bodies are not developed enough to carry a pregnancy to term without complications. 
— Don Hinrichsen / Ann Pettigrew Nunes