DUHOK, Iraq - With hostilities nearing her village in northern Iraq, 30-year-old Khawla had little choice but to flee - while she was eight months pregnant. It was a day her family had been dreading. Attacks by the group known as the Islamic State of Iraq and the Levant (ISIL, also known as ISIS) were drawing near. But with seven children and another on the way, Khawla and her husband were apprehensive about leaving their home, in the village of Solagh, for an uncertain future.
Then one day last month, Khawla awoke to the sound of neighbours shouting. Members of the Yazidi ethnic group were fleeing en masse.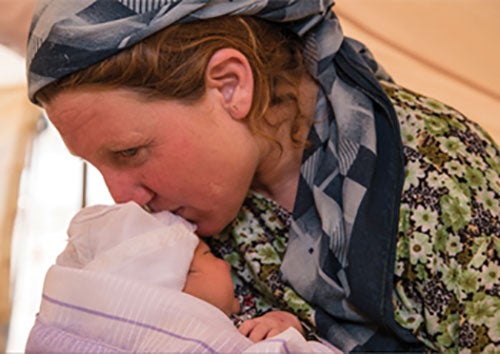 Khawla with her newborn son, who was born in a UNFPA-supported hospital in Dohuk. Their family was forced to flee the escalating violence in Iraq. Photo credit: UNFPA/Millat Hirori
Taking flight
They travelled with other community members, walking for six hours in the desert heat.
"We walked for long hours with no food and water. My only concern was to save my foetus and deliver safely," Khawla said.
But she struggled to move quickly, and feared her slow pace would place the family in jeopardy. At the same time, she was caring for her four-year old son.
"He was gripping my dress all the time and insisting that I carry him. All this put my family at the end of the escaping group. We were so slow," she told UNFPA.
Her 13-year-old daughter, Suzan, stepped in to assist: "I had to help my mother. She was so tired of walking and running."
Finally, they stopped to rest at Mount Shingal, where they and the others spent eight days in hiding. Then they spent four days travelling toward the Syrian border. From there, they were transported to Khanke, a displacement camp in Duhok, Iraq.
Khawla went into labour soon after arriving at the camp.
She gave birth to a boy at Duhok Maternity Hospital, one of several UNFPA-supported health facilities in the area.
"I breathed a sigh of relief when the baby was delivered and medics told me he was in good health," she said.
Bringing maternal health to the displaced
The situation has been designated a "Level 3 emergency,"  the highest-level humanitarian crisis. Some 1.8 million Iraqis have been displaced, including more than 520,000 people who have taken refuge in Duhok, in the Kurdistan Region.
There are three displacement camps in Duhok, and plans to build 11 more. Meanwhile, some people are taking shelter in unfinished buildings or open areas, according to UN reports. The crisis has also overwhelmed the health system.
Every week, there are 300 childbirths among displaced Iraqis in Duhok Governorate, according to Radouane Belouali, UNFPA's head of operations in Iraq.
UNFPA is working with the Ministry of Health to provide maternal health services to pregnant women in Duhok and across the Kurdistan Region. UNFPA is also establishing health units to provide maternity services to women in the Duhok's displacement camps. The units are staffed by medics and midwives, who also provide prenatal services to expectant mothers.
Since the beginning of the crisis, UNFPA has also distributed 10,000 dignity kits and 138 reproductive health kits, each containing enough supplies to meet the health and sanitation needs of many women and girls.
"All that matters"
Khawla and her family are living in a tent with two mattresses and a few blankets. She has yet to name her son, who is now eight days old.
Surrounded by her children, and holding her newborn, Khawla told UNFPA that the name can wait.
"I do not care about what name to give him," she said, smiling. "He is healthy. And I am happy that I and my baby got the proper medical care and attention. That's all that matters for a pregnant woman."