TUNIS/NEW YORK – Tunisia's adoption of a constitution guaranteeing equal rights and protection from gender-based violence is a huge step forward for women and girls, says Meherzia Laabidi, the vice-president of the country's National Constituent Assembly. But with discriminatory laws still on the books, and few enforcement mechanisms in place, much more work remains to be done.
Mrs. Laabidi, the most senior female politician in the chamber, played an important role in negotiating the text of Article 46, the constitutional provision protecting women's rights and equality. Its adoption was also the result of advocacy by civil society, including UNFPA, which "provided the space for active stakeholders with different backgrounds and opinions to meet, discuss [gender-based-violence]-related issues and listen to each other," Mrs. Laabidi said.
UNFPA is now working with officials to help review and implement new protections for women and girls.
A constitutional commitment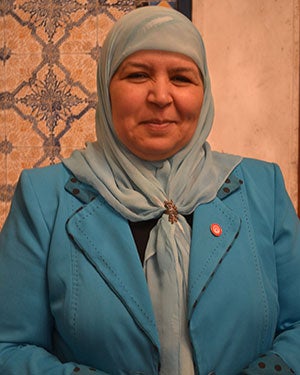 A national survey conducted in 2010 revealed that nearly 48 per cent of women had endured at least one form of violence in their lives. Yet they rarely reported it, pursuing perpetrators in only 17 per cent of cases. Of the women surveyed, 73 per cent said they felt they could not expect any assistance from authorities or official services.
Starting in 2009, UNFPA worked with a variety of partners to facilitate the drafting of Article 46. UNFPA – which supports services for survivors of gender-based violence – collected data on discrimination and violence against women and performed a review of existing laws.
The data generated through these exercises helped demonstrate the need for legal protections for women, and informed the drafting of the new constitution, which was promulgated on 27 January 2014.
Article 46 clearly defined the State's commitment to protecting women and girls from gender-based violence. It "takes all necessary measures to eradicate violence against women," Mrs. Laabidi said. On this point, "nobody [within the National Constituent Assembly] contested it," she added.
Article 46 also calls for gender equality, including equal opportunities for women and men. This provision generated considerable debate on traditions, social norms and expectations.
But after a robust discussion, the Constitution, including Article 46, was overwhelming approved. More than 90 per cent of the Assembly voted for it.
Challenges ahead
Still, lawmakers' work is far from complete.
An analysis of Tunisian laws, completed in December of last year by UNFPA and the Secretary of State for Women and Family Affairs, showed that a wide range of laws fail to ensure justice for victims of violence and abuse.
Marital rape, incest and trafficking are overlooked in current legislation, for example. And under certain circumstances, perpetrators of violence can entirely escape prosecution and punishment – such as when a rapist marries an underage victim.
In addition, survivors of gender-based violence are not systematically provided protection, nor are there general measures to facilitate the survivors' access to legal aid.
Next steps
The next step is the implementation of Article 46 and the creation and revision of laws to address gender inequality and violence. In fact, a comprehensive law to address gender-based violence is now being drafted, with support from UNFPA.
UNFPA also supported the State Secretary in reviewing the regulations for creating and managing shelters for violence survivors, and is helping in the development of an interactive map of services for vulnerable women.
Beginning in 2015, UNFPA will also work with the State Secretary and non-governmental organizations to strengthen the capacities of existing shelters and to open new shelters in selected regions.
Despite the many challenges ahead, Mrs. Laabidi is confident that equality will win out. "Article 46 will have a positive impact on both legislations and behaviours," she told UNFPA.
"This article aims to bring more equality between men and women, and prepare for a society where everyone says no to violence," she added.