ISTANBUL — The first thing a visitor notices when entering the spacious lobby of Türkiye's largest daily newspaper, Hürriyet, is a life-size poster of a battered woman staring out with vacant eyes under the words: "Speak out! This shame is not yours."
In the corporate communications department, on the second floor, another poster calls out, "Stop Violence against Women." The slogan is repeated on other materials, including booklets, CDs, and clothes labels that are scattered across a conference table in the newpaper's headquarters, which also serves as command central for an ambitious nation-wide campaign to stop violence against women.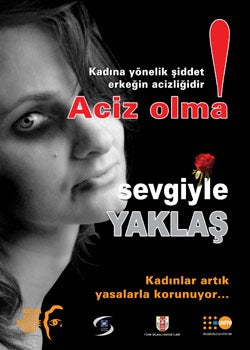 Given that the target audience for the campaign is men, it is fitting that the director of the Stop Violence against Women Campaign is a man –Temuçin Tüzecan. After coming up through the ranks as a reporter, Mr. Tüzecan also now serves as the director of corporate communications at Hürriyet. Sitting in his office with its expansive view of Istanbul, he is upbeat about the campaign and the way it is affecting men as well as women.
"At Hürriyet we had been planning to launch a major public relations campaign to shed light on the widespread problem of violence against women and girls," says Tüzecan, speaking fluent English. "Just when we were preparing to launch it, we found out about the campaign being planned by UNFPA in close collaboration with the Government of Türkiye. So we joined forces. The result is this comprehensive, nation-wide campaign, involving a number of partners and goodwill ambassadors, which has been running for over two years, since 2004."
"We had to figure out a way to reach men, the main perpetrators," recalls Tüzecan. "We knew this was a widespread problem, even in the more cosmopolitan western part of the country. We had to figure out how to engage men in this sensitive, taboo topic." The involvement of Turkish football players proved to be critical in reaching Turkish men.
Domestic violence in Türkiye cuts through all socio-economic segments of society. According to a national survey carried out in the mid-1990s, one-third of all married women in the country have been beaten by their husbands and half have experienced psychological or verbal abuse. Domestic violence is deeply entrenched: The 2003 National Demographic and Health Survey revealed that 40 per cent of married women believe that wife beating is justified under certain circumstances. Among adolescents (ages 15-19), the figure is even higher – 63 per cent.
"We had a huge challenge on our hands," says Tüzecan. "We needed a campaign that targeted men, but also spoke to women. We needed to tell men not to resort to violence, but also get the message out to women that they should not accept violence as a fact of married life." In order to have real impact, a broad-based campaign with multiple partners was needed.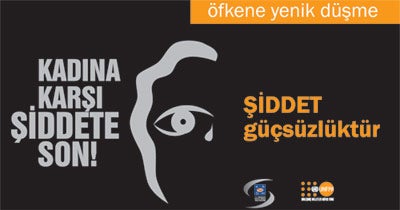 Building Partnerships
As it turned out, partners were not hard to find. The Government, working closely with UNFPA, had already begun work on a separate campaign to end violence against women, and had mobilized other civil society partners. A famous actress, Demet Akba?, was recruited to be one of the spokespersons for the campaign, along with the former captain of the Turkish national football team, Bülent Korkmaz.
"The campaign began to take on a life of its own," recalls Ms Elvan Omay, corporate communication's manager at Hürriyet and one of the organizers of the campaign. "Once we got high profile spokespersons involved, thanks to support from the Government and UNFPA, more opportunities opened up." Although the two campaigns didn't exactly merge, they did complement each other, and UNFPA supported both, forming a kind of bridge between them.
The big breakthrough came when the entire national football league signed on. In 2004 and 2005, during half time at key football matches, well-known football stars donned T-shirts with the campaign slogan, joined arms and urged their fans (mostly men) to treat their women with dignity and respect. Football games are televised nation-wide and attract huge audiences of up to 20 million.
"We needed a campaign that targeted men, but also spoke to women. "
--Temuçin Tüzecan
"I got involved because of the two women who have had a greatest impact on my life – my mother and my wife," says Korkmaz. "When messages are given by celebrities, people listen. The strong partnership with the Government, UNFPA and Hürriyet greatly extended the campaign's reach and increased its impact."
At the same time, the Director of the Turkish Clothing Manufacturers Association, Ms. Aynur Bekta?, agreed to allow her members to put special labels with the main campaign message – "Stop violence against women" – on all new clothes. Some 500 firms participated in this initiative, designed to catch the attention of women.
"In all, we made and distributed nearly two million special labels and probably reached three million women with this phase of the campaign," she says.
Training
Additional elements were needed to move from changes in attitudes to changed behaviour. "Though we have laws on the books, including the Family Protection Law which aims to protect women from domestic violence, enforcement is slack," says Nimet Çubukçu, the state minister responsible for women's issues. The Government initiated training of social workers, police officers, school counsellors and others about gender-based violence and how to deal with it.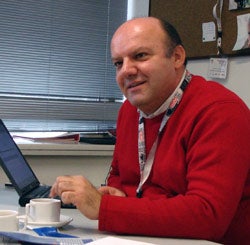 "The objective of the training sessions," explains Dr. Neylan Özdemir, a psychologist and designer of the training programme, "was to reach the perpetrators and convince them that violence was not the answer." The training programme also offered counselling and information for both men and women on what could be done to prevent violence in the home. Men, in particular, were shown how to communicate with their wives and children without using violence.
"So far," says Dr.. Özdemir, "we have sponsored over 1,000 training sessions, reaching upwards of 15,000 people. With 11 cities now participating in the training programme, we expect to reach another 15,000 in 2007."
New military recruits are now required to attend one-day training sessions on gender issues, including domestic violence, reproductive health and family planning, are now required for all new military recruits. This initiative, introduced by the Government with UNFPA assistance, reaches some 500,000 recruits every year. "We need to work with young men in order to change attitudes," says Ms. Çubukçu "The military is an ideal place to get these messages out. We have also initiated training sessions for social workers, health personnel and the police in order to better recognize and address gender-based violence."
Grabbing Life with Four Hands
The national campaign has also given new life to efforts by city administrations in Istanbul and elsewhere to step up efforts to provide shelters and social services for battered women and their children. Though there are only three shelters in Istanbul, they have helped increasing numbers of women escape from violent, and potentially deadly, relationships.
In the drab, over-crowded section of Istanbul known as Kadikoy, a shelter set up in 2002 has now been expanded significantly. "When we established this shelter in 2002, we had space for only 10 women and five children," recalls Ms. Inci Bespinar, Deputy Mayor of Kadikoy. "In 2006, we bought a six-storey building and can now accommodate 60 women and 15 children. In total, around 450 women have benefited from these services."
Not only does the shelter provide a safe haven and a place to live and rebuild their lives, it also offers literacy classes and job training, along with psychological counselling and medical attention. "Once these women have been rehabilitated," observes Ms. Bespinar, "we help them find a place to live, a job, and provide social support services, including child care, if needed."
One victim of persistent violence is Elif, 30 (not her real name), who has just arrived at the shelter. "I was married six years and I did not have one week that was free from his violent rages," says Elif. "When I announced that I was divorcing him, the beatings got much worse. At the end, he tried to burn me to death."
Elif will never go back to her former husband. She is now getting medical care for the burns, which still scar her face, along with psycho-social counselling. "He was uneducated and had an inferiority complex," she says, looking at the floor. Rebuilding her life will not be easy, she realizes: "I spent a lot of time in intensive care, but now at least I will have a chance for a normal life with my child. I will grab life with four hands."
— Don Hinrichsen