ULAKAN CAMP, Indonesia – Escalating volcanic activity at Mount Agung in Bali prompted Indonesian authorities to issue an SOS alert, the highest-level warning, on 22 September. Currently, over 133,000 people are still living in evacuation camps, temporary shelters or with host families. 
Seismic activity has been declining. But as a precaution, the emergency phase has been extended several times, most recently to at least 9 November.
UNFPA is providing critical hygiene supplies, as well as kits containing supplies for pregnant women, post-partum women and newborns. UNFPA is also supporting the government's reproductive health services for the evacuated.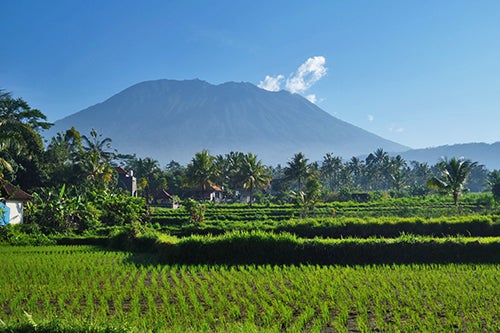 Mount Agung in Bali. Photo from 2016. © Nuansa Pedesaan /Wikimedia Commons/CC BY-SA 2.0
"I am concerned," said one disaster expert while distributing assistance in early October.
"From October to December is the rainy season. We should consider diarrhoea and other diseases as a result of insufficient clean water and living conditions in camps."
Feeling torn
For many Balinese, Mount Agung is more than a just mountain – in rituals, it is a symbol of Mother Nature, a protective force. But the volcano also poses a significant threat: The last time Mount Agung erupted, in 1963, over 1,000 people were killed.
The evacuation has been potentially life-saving. But as the weeks drag on, it is growing more disruptive.
Tens of thousands of people are dispersed across 385 locations. The conditions are good and the local government has been supportive, the evacuees reported. But many say they feel torn between maintaining their safety and returning home to resume their lives.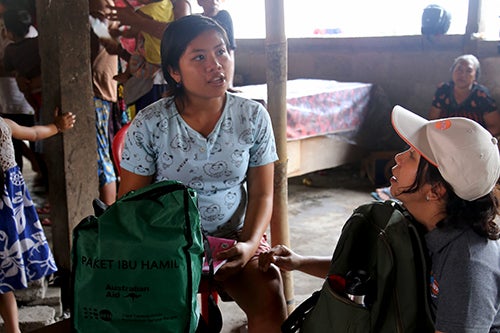 A pregnant evacuee speaks with a UNFPA staff member. © UNFPA Indonesia/Nun Sol Jang
Women interviewed said their husbands go home during the day to care for their cows, chicken and property, then return to the camps in the afternoon.
One women, at the Manggis 2 camp, said she and her son have been staying in the camp for weeks. Though she is happy with the support they have received from the government, the disruption has been difficult.
"I don't know how to handle the condition if we have to stay here longer," she said.
Support for mothers and babies
UNFPA is working closely with the Ministry of Health, conducting a joint mission and providing health supplies and equipment to support health-care services.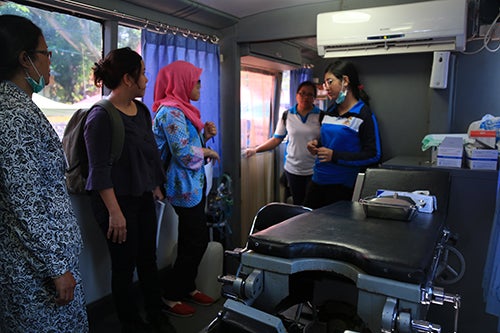 UNFPA is supporting reproductive health services for evacuated communities. © UNFPA Indonesia/Nun Sol Jang
With over $33,000 from the Australian Department of Foreign Affairs and Trade, UNFPA was able to provide 1,200 hygiene kits, 480 maternity kits, and 160 post-delivery kits in early October.
The Ministry of Health also distributed 160 UNFPA-provided newborn kits.
Still, as the weeks drag on, evacuees are growing restless. Many are staying in large communal tents without any dividers to separate families or individuals.
Thirty-year-old Komansari, for instance, is living in close proximity to 80 other people. Her family first arrived weeks ago, she said. They have no idea when will they be able to return home.
Updated 28 October 2017.