Khartoum, Sudan—The midday sun in this desert capital is merciless. Nevertheless, a handful of women endure the hundred-degree heat by sharing the sparse shade of a few trees in the courtyard of the Dr. Abbo Fistula Centre.
These women are masters of endurance. Some have been saving for years and exhausted all their resources just to get here. They are willing to wait a few more days or weeks or even months for a bed to open up, or for some supplies to come in, so that their fistulas can be repaired and they can feel whole again.
Living with obstetric fistula is more than anyone should have to bear. This heartbreaking injury of childbirth is preventable and treatable, but resources and political will are stretched too thin across much of Africa and South Asia to give priority to this "women's problem" and its deep-rooted causes.
As a result, millions of girls and women live with constant leaking of urine, one of the humiliating symptoms of fistula. The resulting odor often drives even husbands and loving family members away. The discomfort is relentless, but the loneliness and isolation make matters much worse. And because fistula is an injury affecting the vaginal canal, it cannot be spoken of easily, so the women often suffer in silence.
" Once you begin treating the fistula patients, you can't leave them. "

--Dr.Abbo
For forty years, ever since he noticed that no one else seemed to be caring for them, Dr. Abbo has dedicated himself to the plight of women with fistula. It has not been easy in an impoverished country where instability has reigned and where the health infrastructure is in shambles. "Once you begin treating the fistula patients, you can't leave them," he says.
But in 1965 he convinced the Sudanese government to send him to Oxford University for six months of specialized training in surgery to repair the holes, or fistula, in the tissue of the bladder or rectum that result from unrelieved, prolonged labour. In spite of scarce resources and limited space, Dr. Abbo managed by 1972 to establish within the Khartoum Teaching Hospital the small centre that now bears his name.
With just one operating room (another will open soon, thanks to contributions from the Swiss Government) and a chronic shortage of medical equipment, the eight doctors who volunteer time at the fistula centre can treat only one patient per day. Many patients have to wait for up to three months to be treated, sometimes sharing beds with others during the weeks of post-operative care that are so important for successful outcomes. The centre also runs out of essential supplies, such as catheters and antibiotics. And when supplies are low, if the patients cannot afford to buy them, they stay under the trees, "waiting for their day to come," Dr. Abbo says.
Spots may be opening up in the fistula ward, because Najwa and Eltoma are both going home, cured, finally, after years of hardship. Although their fistulas were more severe than most, their sad stories are fairly representative of what women with fistula routinely endure.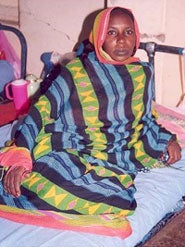 Najwa is only 24, but has lived with fistula for most of her adult life. She got pregnant soon after her marriage at 17 and didn't know how many things could go wrong during childbirth. She was alone for her first day of labour. A daya, or traditional birth attendant, was sent for on the second day, when the labour was not progressing as it should. After four agonizing days of pushing, Najwa's husband and mother managed to get her to the hospital. But it was too late to save the baby or to prevent Najwa from developing a fistula. Because she was leaking, her husband abandoned her.
Three months later Najwa made an arduous journey across the desert to Khartoum. Because the damage she sustained was severe, her first surgery did not correct the problem (simple fistulas can usually be repaired with a single operation). Even though surgery at the fistula centre is free, it was years before Najwa could afford to make the long trip again. Now she is excited about returning to her family. But she has no intention of remarrying. Instead, she says, she will help her brother and his wife raise their children.
Eltoma has lived in hospitals since her fifth pregnancy left her disabled and her husband deserted her. She spent two years at a regional hospital in Darfur simply because she didn't know where else to go and, like many others with the condition, she didn't know that her condition was treatable. Finally, someone at the hospital told her about the fistula centre in Khartoum. Her father, anxious to have his daughter's health restored, brought her there by train. The damage to her birth canal was so extensive that she needed more than one repair surgery and stayed at the centre for two years. Now, she, too, is clean and dry, and can return to her children, who have lived apart from her for four years.
The Dr. Abbo Fistula Centre has helped about a thousand women with fistula, but that is just a small fraction of the women in the country who need care. Although no one knows for sure how many Sudanese women live with condition, many of the factors that typically contribute to a high prevalence of fistula converge in Sudan. A large percentage of the population lives far from medical facilities. Poverty is widespread – almost 90 per cent of the people live on less than $1 a day. About 40 per cent of women have no access to medical care during their pregnancies, and the maternal mortality ratio is very high (509 maternal deaths out of 100,000 live births, by best estimates). One of the most extreme forms of female genital cutting, which includes stitching up of the vagina, is practiced widely in the country, and is thought to contribute to poor pregnancy outcomes.
Sudan is taking steps to address fistula, and the larger issue of safe motherhood. Earlier last March (2004) the UNFPA Sudan Office officially launched the global Campaign to End Fistula in the country. The national launch featured the slogan "We MUST Care" and a jingle by a popular musician, Dr. Abdel Kareem Abdel Aziz Al Kabli, now also UNFPA Honorary Ambassador. The song advocates against harmful practices that contribute to fistula, such as too-early marriage and female genital cutting. The campaign plans to expand treatment capacity within the country by upgrading services at the Dr. Abbo Fistula Centre and by initiating fistula repair in four other hospitals throughout the country.
Sudan is also working on measures to prevent fistula from occurring in the first place. With assistance from UNFPA, the government has developed a strategy to place at least one skilled birth attendant in each village. Between 2002 and 2003, a total of 2,220 midwives were certified from the country's 39 midwifery schools, 15 of which were newly established institutions. UNFPA provided scholarships for 800 midwives to attend the training programme and supported refresher-training courses to improve quality of care. The campaign also hopes to improve transport systems so that women who need Caesarean sections – which can prevent fistulas and save lives in cases of obstructed labour – or other emergency obstetric care can get help in time.
UNFPA is also working to provide emergency services to more than a million people who have been displaced in the Darfur region of western Sudan, where the reproductive health situation is alarming. UNFPA is expanding the number of skilled birth attendants in the refugee camps and is training and equipping primary, secondary health centres and rural hospital so they can provide life-saving obstetric interventions.
Another important aspect of prevention is advocacy. That includes breaking the silence that has surrounded fistula so that women with the condition understand they are not alone and that they can be cured. Communication campaigns are helping people to understand the risks of early pregnancy and the need for skilled attendance, including backup referrals to hospitals in case surgery or blood transfusions are needed.
Recently Sudan has come a long way in terms of breaking the silence that has long surrounded fistula. Coverage of the fistula campaign has been widespread in Sudan's newspapers and radio, and a study is underway to better understand the scope of the problem. But there are still too many women waiting under the trees at the Dr. Abbo Fistula Centre. And some two million girls and women across Africa, Arab States and South Asia will endure the ordeal of fistula for years to come.
--Kathryn Ramsey, Janet Jensen