Following the socio-political tensions at the end of 2015/early 2016 in Congo, socio-political unrest and armed conflict have increased the need and urgency to provide humanitarian assistance to the 180,000 women and men displaced, particularly women and adolescent girls. During conflicts, natural disasters and other emergencies, sexual and reproductive health needs, including the hygiene needs of women and girls, are often overlooked.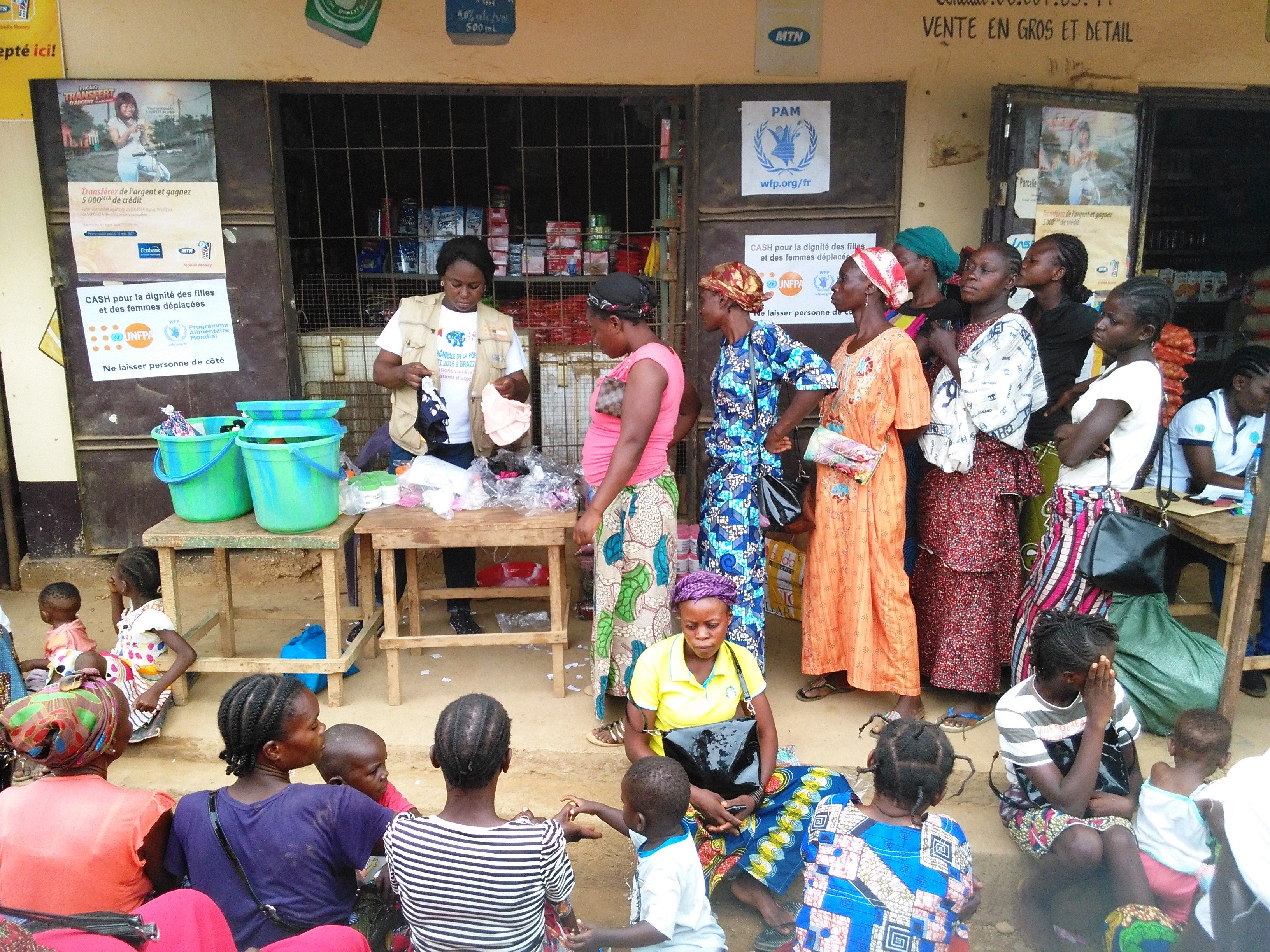 Cash For Dignity, is the innovative approach by UNFPA, in partnership with the World Food Programme (WFP) to restore dignity and increase access to dignity kits for displaced women and girls through mobile fund transfers. In the district of Pool, in the recent months, about 2,500 women and girls, who were already recipients of WFP food aid, received a money transfer by mobile phone to acquire dignity kits in local shops, according to their needs (i.e. color, size, type of items etc.). The great advantage of the program is that for women and girls can go the local store of their choosing and select the items they want and need. 
"The transfer of money over the phone has made things easier for us, in the choice of the items of the kits that are distributed to us, but also with less risk of losing the money received. Thank you for the choice and the dignity you give us back", displaced from Pool and beneficiary of Cash for Dignity
The continuous presence of joint UNFPA and WFP teams at distribution centers at the local level has opened a space for informal exchanges and dialogue with local authorities and stakeholders on the specific needs of women and girls living in displacement. 
This initiative has also helped identify the specific vulnerabilities of these women and girls, which include adolescent girls and young women, pregnant women, and breastfeeding mothers. It has also facilitated the establishment of a network of partnership with 12 local shops, 7 of which are owned by women. As part of this innovative initiative, UNFPA was also able to partner with Radisson Blu Hotel on a fundraising event which collected funds for some fifty additional kits for the most deprived girls in the Kinkala Base Hospital to ensure that no one is left behind.