DAKAR, Senegal — Zimbabwean filmmaker Tawanda Gunda-Mupengo took home the $1,000 first prize in the continent's largest Pan African Film Festival devoted to Gender Based Violence (GBV).
Several hundred people gathered at the launch to watch Gunda-Mupengo's film, 'Spell My Name', the moving story of a young teacher who uncovers the sexual abuse of one of her students by the school's headmaster. Eighty-four films from 18 African countries were submitted for inclusion in the festival, organized by UNFPA, the United Nations Population Fund, to call attention to gender-based violence and break the silence surrounding the issue.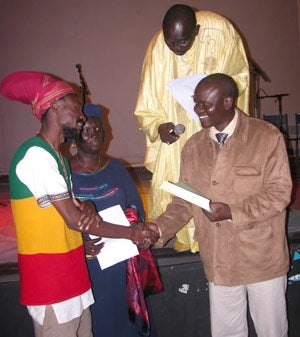 "The stigmatization and discrimination of victims is marked by a culture of silence in our societies," said UNFPA Senegal Representative Suzanne Maiga-Konate at the festival launch Thursday. "We want an end to society's rejection of these victims to promote an environment where survivors can alleviate their distress and seek justice."
Other top honors went to Ugandan filmmaker Caroline Kamya, about a Tanzanian woman who flees an abusive relationship of 10 years and forms an organization fighting for the rights of women and men affected by violence in 'Women Wake Up'. 'Behind Closed Doors', by Kenyan filmmaker Jane Murago-Munene tells the story of a woman abused by her husband who seeks justice. Senegalese Sembene Ousmane received an award for his film about a man who refused to have his only daughter excised. And finally a UNICEF-sponsored film depicting the lives of Egyptian street children in their own words was also honoured.
Globally, as many as one in three women has been beaten, coerced into sex or abused, most often by someone she knows. GBV reflects and reinforces inequities between men and women and compromises the health, dignity and security of those that survive the abuse.
In Africa, many rapes go unreported because of the social stigma suffered and an unsympathetic legal system. Victims are often blamed or told to keep the issue within the family. UNFPA is working with Governments, sister UN agencies, NGOs and civil society to challenge this culture of silence to ensure that the voices of these women are heard.
"This film festival will provide a positive contribution to make communities more aware of what victims are going through," said Alia Nakoe, a programme officer in charge of GBV in the Senegal UNFPA office and one of the organizers of the festival. "We want these films to go to other African countries to make others aware of the issues and reduce the stigma associated with the epidemic of violence the continent is facing."
The films in the festival were shown at five different sites around Dakar followed by panel discussions, featuring networks of religious leaders, parliamentarians, journalists and traditional communicators. The films were also shown at adolescent centers and will eventually travel to the regions of Tambacounda, Kolda and Matam, before going abroad to other interested African countries.
A two-day journalist training, with members of the media from six African nations, was also held in conjunction with the festival to provide journalists with tools to report on this sensitive issue.
***
The United Nations Population Fund is an international development agency that promotes the right of every woman, man and child to enjoy a life of health and equal opportunity. UNFPA supports countries in using population data for policies and programmes to reduce poverty and to ensure that every pregnancy is wanted, every birth is safe, every young person is free of HIV/AIDS, and every girl and woman is treated with dignity and respect.
Contact Information:
Angela Walker: Tel. +221-5080745, awalker@unfpa.org
Alia Nankoe: Tel. +2214533322, nankoe@unfpa.org