Iraq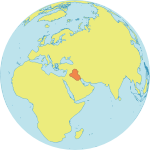 Maternal Mortality Ratio
50
Contraceptives prevalence rate
58
Population aged 10-24
31%
Related content
DAMASCUS, Syria – "All I know is that I need help," said Amal, a 46-year-old mother of five as she was admitted to the Al-Halbouni clinic in Damascus, Syria, for a medical consultation after she was severely beaten by her husband.
UNITED NATIONS, New York – Approximately one million people have been displaced by the mounting crisis in northern and western Iraq. The deteriorating security has left some 250,000 women and girls – including nearly 60,000 pregnant women – in need of urgent care.
DAMASCUS, Syria – As a new mother, Wardeh's life should have been filled with hope and anticipation. But like many young women in war-ravaged Syria, her life has become a daily struggle.
Pages