Egypt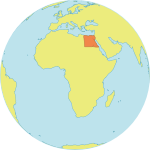 Maternal Mortality Ratio
37
Contraceptives prevalence rate
44
Population aged 10-24
26.2%
Youth secondary school enrollment
Related content
Women have a right to make their own decisions about whether, when and how often to become pregnant. That right was reaffirmed in 1994 in Cairo at the landmark International Conference on Population and Development (ICPD), where 179 governments agreed that sexual and...
"Must a girl be of lesser value than a boy?" Wen Xiujuan asked, after having two daughters.
In 1994, the world was transforming. Motherhood would never been quite the same.
Pages