Egypt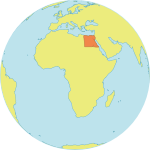 Maternal Mortality Ratio
37
Contraceptives prevalence rate
44
Population aged 10-24
26.2%
Youth secondary school enrollment
Related content
"The decline is far from adequate," said UNFPA Executive Director Dr. Natalia Kanem. Data from 2017 show that approximately 810 women die each day of preventable causes related to pregnancy and childbirth.
From their communities to their capital cities, young people everywhere are demanding their rights, as affirmed 25 years ago at the International Conference on Population and Development (ICPD) in Cairo. In the decades since, we at UNFPA have accompanied countless young people...
Kabul, Afghanistan/UNITED NATIONS, New York – UNFPA Executive Director Dr. Natalia Kanem joined a high-level delegation of women UN leaders on an intensive two-day "solidarity mission" to Afghanistan to highlight the need for women's voices to be elevated in peacebuilding...
Pages