Thailand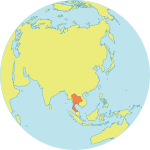 Maternal Mortality Ratio
37
Contraceptives prevalence rate
56
Population aged 10-24
19.1%
Youth secondary school enrollment
Related content
<p> <b>Phnom Penh</b> – The United Nations Population Fund (UNFPA) has named Chea Samnang, a doctor and actor, as its Goodwill Ambassador for Cambodia. Born on Christmas Day in 1971 in the capital, Phnom Penh, Dr.
The document opens by summarising the complexity involved in measuring maternal mortality and the reasons why such measurement is subject to uncertainty, particularly when it comes to monitoring progress.
These guidelines describe the strategies for achieving elimination of maternal and neonatal tetanus by the year 2005 and, once elimination is achieved, for maintaining it.
Pages