Lebanon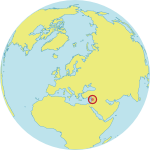 Maternal Mortality Ratio
29
Contraceptives prevalence rate
29
Population aged 10-24
25.3%
Related content
In light of the COVID-19 pandemic, UNFPA continues to mobilize its resources to ensure continuity of sexual and reproductive health services and services to prevent and respond to gender-based violence throughout the region.
How is menstruation related to human rights? When does menstruation start? What are common myths and taboos about menstruation? What is period poverty?
Within the Syria crisis region, which spans the whole of Syria, Turkey, Lebanon, Jordan, Iraq and Egypt, there have been a total of 129,407 confirmed cases of COVID-19 as of April 30, 2020.
Pages