Iraq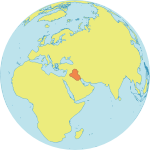 Maternal Mortality Ratio
79
Contraceptives prevalence rate
37
Population aged 10-24
31.1%
Related content
Displacement continues from conflict-affected areas between Ras al-Ain and Tal Tamer such as Alahras, Alamiriyah, Abu Rasian, Um Alkhair, Dahr Alarab, Almahmoudiya and other villages.
At the close of 2019, Yemen remains one of the world's worst humanitarian crises, with staggering levels of humanitarian needs. Eighty percent of the population – 24.1 million people – need some form of humanitarian assistance.
The security situation in Syria remains volatile. Idlib, Aleppo, Daraa, Al-Hassakah, Deir-ez-zor, North Lattakia and North Hama governorates remain primary hotspots.
Pages