Philippines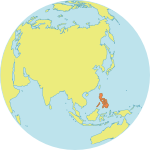 Maternal Mortality Ratio
114
Contraceptives prevalence rate
56
Population aged 10-24
29%
Youth secondary school enrollment
Related content
NEW YORK --- Academicians and experts from seven UN agencies gathered at UNFPA this week for one in what will be a series of global thematic consultations, as well as national consultations, aimed at influencing the post-2015 agenda.
LONDON —Making voluntary family planning available to everyone in developing countries would reduce costs for maternal and newborn health care by $11.3 billion annually, according to The State of World Population 2012, published today by UNFPA.
Her Royal Highness, Crown Princess Mary of Denmark, a UNFPA Patron and global advocate for the right to sexual and reproductive health, visited Mozambique last week to gain new insights and understanding of the nature of UNFPA's work at the national level.
Pages