Philippines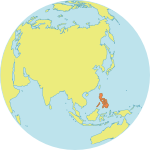 Maternal Mortality Ratio
114
Contraceptives prevalence rate
56
Population aged 10-24
29%
Youth secondary school enrollment
Related content
UNITED NATIONS -- The Third Committee of the General Assembly this week adopted a resolution calling for intensified global efforts to eliminate female genital mutilation and cutting.
BALI -- Over 2,000 youth delegates from around the world will connect in person and by web to consider UN priorities for the next 20 years.
Men and boys are the main perpetrators of violence against women and girls in conflict situations. This being so, it is clear that any solution to the problem must engage men and boys.
Pages