New York – The United Nations Population Fund (UNFPA) today appointed Mary Banotti, Member of European Parliament, its Goodwill Ambassador and Face to Face Campaign Spokesperson for Ireland.
Ms. Banotti has been a Member of the European Parliament for 15 years. She is one of the most respected politicians in Ireland. In June this year, she topped the polls in Dublin in the European Parliament elections. Ms. Banotti was also a strong candidate in the last Irish Presidential election in 1997.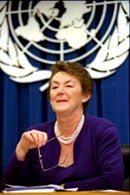 "I am supporting UNFPA and the Face to Face campaign because I believe that Ireland, along with all developed nations, carries a significant responsibility to help improve the lives of future generations. I will work to raise awareness of the urgent need for increased funding for overseas development in reproductive and sexual health care, education and awareness, and the immense benefits investment in this area can bring," said Ms. Banotti.
Ms. Banotti will work closely with the Irish Family Planning Association, UNFPA's partner in Ireland for the Face to Face campaign.
Face to Face is an international campaign to publicize the plight of millions of women and youth denied basic human rights taken for granted in developed countries, especially access to reproductive health care and family planning services. The goal of Face to Face is to increase global awareness that women's rights are human rights. It also aims to build support for increased funding - both domestic and international - for services that will allow everyone everywhere to exercise their reproductive rights.
On 12 October, world population will reach 6 billion. One billion are young people aged 15-24 years entering their reproductive years, the largest generation of its size ever. The choices available to them will determine the future size of world population.
Ms. Banotti's first official function as UNFPA Goodwill Ambassador will be to take part in marking the Day of 6 Billion at an event in Dublin tomorrow (12 October). Her plans as Goodwill Ambassador include joining a group of European parliamentarians on a study tour to Zambia and Uganda in January 2000.
Currently 350 million women around the world do not have access to family planning information and services. About 600,000 women die each year from pregnancy-related causes. One billion people lack the basic means for a decent life – clean water, shelter, food and security.
A recent report from the Organization for Economic Cooperation and Development (OECD) on Irish overseas development assistance said:
"In the area of reproductive health, Ireland has a great deal to offer developing countries from its national experience. As recently as 1972, the importation and sale of contraceptives was forbidden in Ireland. After Ireland's Family Planning Health Bill was passed in 1978, rapid strides were made in improving reproductive health services in Ireland. A recent MORI poll shows not only strong support for contraceptive services: sex education and reproductive health services in Ireland itself, but for the provision of contraceptive and family planning advice in the developing world."*
Ireland is a member of UNFPA's Executive Board and has been steadily increasing its financial support of UNFPA since 1993. Ireland contributed £300,000 to UNFPA in 1998, with additional support for the five-year review of the International Conference on Population and Development (ICPD). In 1999, Ireland will contribute approximately £350,000 to UNFPA. These regular increases reflect Ireland's strong support of the ICPD Programme of Action and the importance of meeting the demand for voluntary family planning services in developing countries.
* (OECD DAC draft report, 1999).