India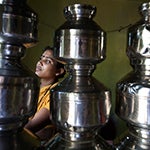 Maternal Mortality Ratio
145
Contraceptives prevalence rate
43
Population aged 10-24
27.2%
Youth secondary school enrollment
Related content
Thank you for the kind introduction and thank you for inviting me to speak tonight about the role of culture and religion in population and family planning. These issues are very important to me and to my organization, the (UNFPA). And they are central to the success of the...
Mr. Secretary-General, Chairman, Distinguished Delegates, Ladies and Gentlemen,
I am honoured to address you. We are gathered in Monterrey to try to resolve a paradox: the paradox of a world where wealth is being created faster than ever before, but inequalities are...
Winning the war in Afghanistan is not the same as keeping the peace. Here I would like to correct a common misconception, mostly produced by the media. Achieving peace and building communities and nations are considered in Islamic theology as the highest form of Jihad (Al-...
Pages