India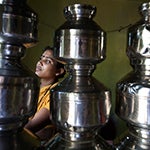 Maternal Mortality Ratio
145
Contraceptives prevalence rate
43
Population aged 10-24
27.2%
Youth secondary school enrollment
Related content
Let me get right to the point. Ten years after the adoption of Agenda 21, the primary challenge remains: to ensure that access to resources for human development is in balance with human numbers; to end extreme poverty; and to advance equality between men and women.
...
A report from the consultative meeting held in Bratislava, Slovakia, on 13-15 November 2001. The purpose of the meeting was twofold: first, to examine and explore the impact of armed conflict on women and girls; and, second, to formulate strategies and tools to ensure that...
Previously known as AIDS Update, this is the 11th annual publication to provide information about action taken by UNFPA to prevent HIV infection. HIV/AIDS threatens to destroy a whole generation of leaders, workers, parents and youth, and to create a generation of orphans in...
Pages