Germany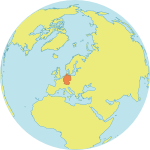 Maternal Mortality Ratio
7
Contraceptives prevalence rate
61
Population aged 10-24
14.9%
Youth secondary school enrollment
Related content
Iuliana* did not get much a childhood. At age 15, she found herself pregnant. She said she had been afraid to negotiate safe sex with her boyfriend, who was four years older. Her fears were well-founded: He sometimes lashed out violently against her.
"Must a girl be of lesser value than a boy?" Wen Xiujuan asked, after having two daughters.
In 1994, the world was transforming. Motherhood would never been quite the same.
Pages