Nepal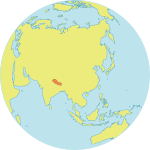 Maternal Mortality Ratio
186
Contraceptives prevalence rate
43
Population aged 10-24
31.2%
Youth secondary school enrollment
Related content
Elevating Rights and Choices for All: Guidance Note for Applying a Human Rights Based Approach to Programming provides a road map for institutionalizing a human rights-based approach in the work of UNFPA, guided by the principles of: equality and non-discrimination, quality...
The humanitarian crisis in Yemen remains the worst in the world; further deteriorating in 2020, driven by an escalating conflict, collapsing economy, a depreciating currency; exacerbated by torrential rains and flooding, COVID-19 and a fuel crisis. An estimated 24.1 million...
Within the Syria crisis region, which spans the Whole of Syria, Turkey, Lebanon, Jordan, Iraq and Egypt, there have been a total of 124,553,69 confirmed cases of COVID-19 as of November 30, 2020. The highest number of confirmed cases came from Turkey (1,431,648), followed by...
Pages