Canada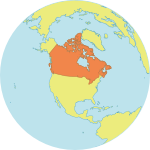 Maternal Mortality Ratio
10
Contraceptives prevalence rate
74
Population aged 10-24
16.8%
Youth secondary school enrollment
Related content
Delicate and petite, Nélia is 25 but looks like a teenager. She has already been pregnant three times, and has endured more than her share of tragedy. She lives in Pichon, a remote community in Belle-Anse, where the nearest health centre is a three-hour walk away. Like most...
"I could have died the day my son was born," said Evelyn*, who became pregnant when she was only 13. Her pregnancy was complicated, and she spent most of the time bedridden and in constant discomfort.
When Aminata Kabba became pregnant last year, at 15 years old, she had no idea how difficult her life would become. "Having a child at my age was a big mistake," she said. Becoming a mother has disrupted her education and her life trajectory. "I don't work. I am a school...
Pages