Canada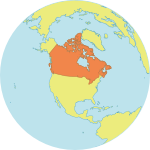 Maternal Mortality Ratio
10
Contraceptives prevalence rate
74
Population aged 10-24
16.8%
Youth secondary school enrollment
Related content
The horrific Ebola outbreak in West Africa came to an end one year ago. The crisis left over 3,900 Sierra Leoneans dead and health systems in disarray – yet the true toll of the epidemic has been even higher.
On 14 May 2017, dozens of countries around the world will observe Mother's Day. It is a day to celebrate mothers everywhere, but also a moment to reflect on the risks that too many women still encounter on their journey to motherhood – and what can be done about it. See more...
Motherhood should be a time of joy, but for too many women, it comes with something else: peril. "Becoming a mother and having a family was always a dream of mine. But I never expected it to happen in these circumstances," Fatima told aid workers in Homs, the conflict-...
Pages