Turkey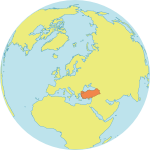 Maternal Mortality Ratio
17
Contraceptives prevalence rate
48
Population aged 10-24
24.1%
Youth secondary school enrollment
Related content
JAYAPURA, Indonesia – "My daughter used to hide all sorts of things from me," said Martina, 41, at a support group session in Jayapura, in the far-eastern Indonesian province of West Papua. "But here, we learn to talk to each other openly, equally as friends, and she shares far...
New Year Message from UNFPA Executive Director Dr. Natalia Kanem
Today, as we commemorate the anniversary of the Universal Declaration of Human Rights, we celebrate the foundations that the Declaration provides for the right to sexual and reproductive health, and the growing recognition that these are fundamental human rights. This takes...
Pages