Central African Republic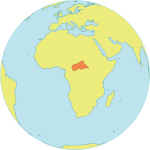 Maternal Mortality Ratio
882
Contraceptives prevalence rate
26
Population aged 10-24
34%
Youth secondary school enrollment
Related content
The focus of this joint funding proposal is to leverage social dynamics towards abandonment within selected communities that practice FGM/C.
This flagship report analyzes data and trends to understand who is denied access and why. It examines challenges in expanding access to family planning.
SANA'A — Rap has won over Yemeni youth. It was in a UNFPA-supported workshop gathering media and young people where the idea for a rap song to promote reproductive health was born.
Pages