Central African Republic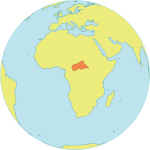 Maternal Mortality Ratio
882
Contraceptives prevalence rate
26
Population aged 10-24
34%
Youth secondary school enrollment
Related content
This handbook provides guidance the latest guidance on providing with the full range of contraceptive methods.
This report presents the global, regional and country estimates of maternal mortality in 2010, as well as trends from 1990 to 2010, which show sustained progress in saving mothers' lives.
This report presents 2012 estimates of the numbers and proportions of women in the developing world using modern methods and in need of modern contraception, as well as the cost and impact of meeting this need.
Pages